Air Freight, Sea Freight, and Express from China to Israel

Daily Services to Israel
China to Israel Door-to-Door Air Freight
China to Israel Door-to-Door Sea Freight
Sending Packages from China to Israel
Have you ever wondered how goods are transported from China to Israel? This article will explore the intricacies of international logistics involved in shipping goods from China to Israel. Join me in understanding the challenges and solutions when transporting goods from China to Israel.
Shipping From China To Israel
Air Freight from China to Israel
Air freight, a rapid and efficient transportation method, holds unique advantages when shipping goods between China and Israel. It offers high-speed delivery and shorter transit times, making it ideal for urgent shipments. When you need to swiftly get your products to Israeli customers, air freight is the way to go! Additionally, air freight reduces the risk of loss or damage during transit, as goods are properly secured in specialized shipping containers to ensure safe arrival at the destination.
So, if time is of the essence, air freight is the best choice, despite its higher cost. It is commonly used for transporting small, high-value items like jewelry, gemstones, or perishable products.
Major Cargo Airports in China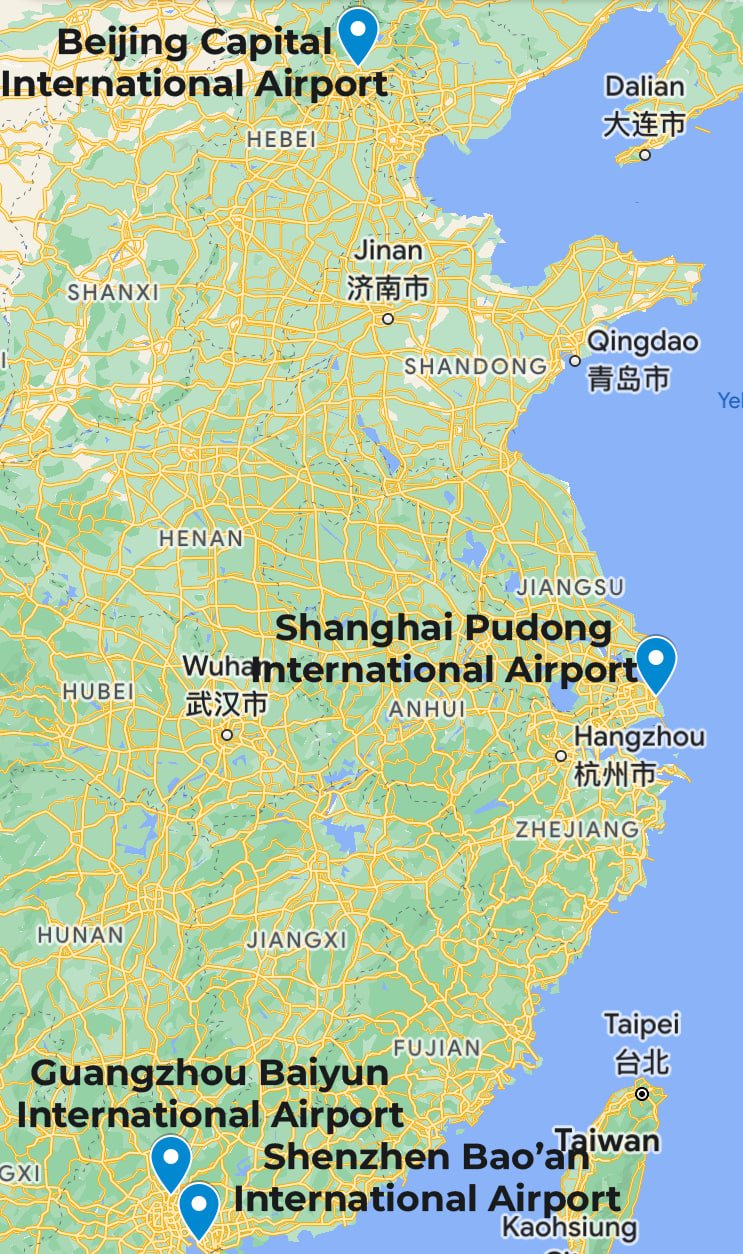 Shanghai Pudong International Airport (PVG)
Beijing Capital International Airport (PEK)
Guangzhou Baiyun International Airport (CAN)
Shenzhen Bao'an International Airport (SZX)
Major Cargo Airports in Israel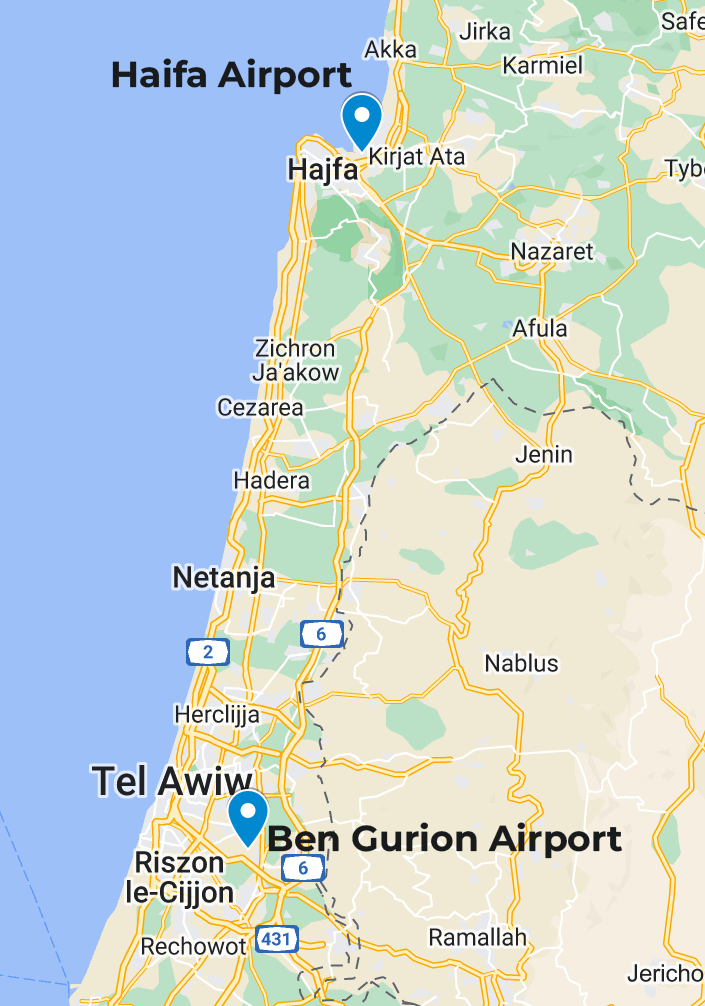 Ben Gurion Airport (TLV)
Transit Times for China to Israel Air Freight
T/T

Shanghai (PVG)

Guangzhou (CAN)
Shenzhen (SZX)
Hongkong (HKG)

Tel Aviv Airport

(TLV)

1 day direct flight


1 day direct flight

2-4 days

1 day direct flight

2-4 days

3-5 days

6-9 days
Air shipments normally take 3-7 working days, depending on the delivery date. We have experienced deliveries as fast as 2 working days and as slow as 2 weeks. However, please note that the time for handling documentation by the customer or customs clearance agents is not included.
There are several airlines that provide cargo services from China to Israel. Here are some common airlines that offer freight transportation services from China to Israel: Air China Cargo (CA), China Southern Cargo(CZ), China Eastern Cargo(MU), Hainan Airlines Cargo(HU), Xiamen Airlines Cargo(MF), Capital Airlines Cargo(JD), etc. Choosing the most suitable airline for your situation depends on several factors:
Transportation Cost: Different airlines may have varying freight costs. It is advisable to inquire about quotes from different airlines and select the option that best fits your budget.

Transportation Time: Consider how quickly you need your goods to reach their destination in Israel and choose an airline with shorter transportation times. If shipment is very urgent, you can consider using direct flight service.

Type and Characteristics of Goods: Different airlines may have different restrictions and requirements for various types of goods. Ensure that the chosen airline can safely transport your products. For your information, most goods having batteries usually go via Hongkong airport.

Reliability and Reputation: Research the reliability and reputation of the airlines to ensure the safe and timely delivery of your cargo.



Before choosing an airline, it's recommended to contact multiple airlines, inquire about freight details, obtain quotes, and consider the factors mentioned above to make an informed decision. Additionally, it's best to work with experienced freight forwarders or logistics professionals who can provide professional advice and assist you with arranging the transportation matters.
Sea Freight from China to Israel
Sea freight, a more cost-effective and commonly chosen transportation method, plays a crucial role in trade between China and Israel. One of the key advantages of sea freight is its economic efficiency for large-scale shipments, oversized cargo, and long-term contracts.
Sea freight is a wise choice when you have a substantial amount of goods to transport or seek to save costs.
However, sea freight's drawback is its relatively longer transit time, usually taking several weeks or months to reach the destination. Therefore, early planning and arrangement are essential.
Sea freight has a significant capacity, making it convenient for transporting larger loads. You can choose between FCL (Full Container Load) or LCL (Less than Container Load) for sea freight. FCL means your goods will fill an entire container, while LCL means sharing a container with other shippers.
Major Cargo Ports in China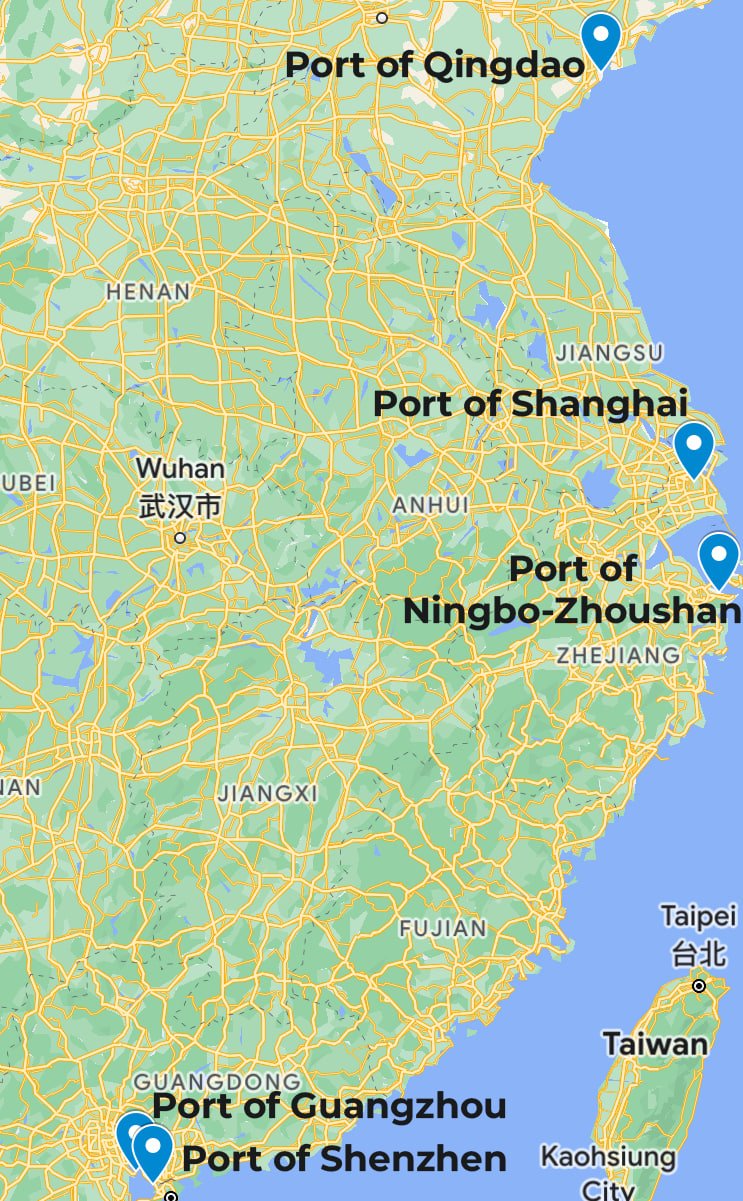 Shanghai Port (CNSHA)
Shenzhen Port (CNSZX)
Ningbo-Zhoushan Port (CNNGB)
Guangzhou Port (CNGZG)
Qingdao Port (CNTAO)
Major Cargo Ports in Israel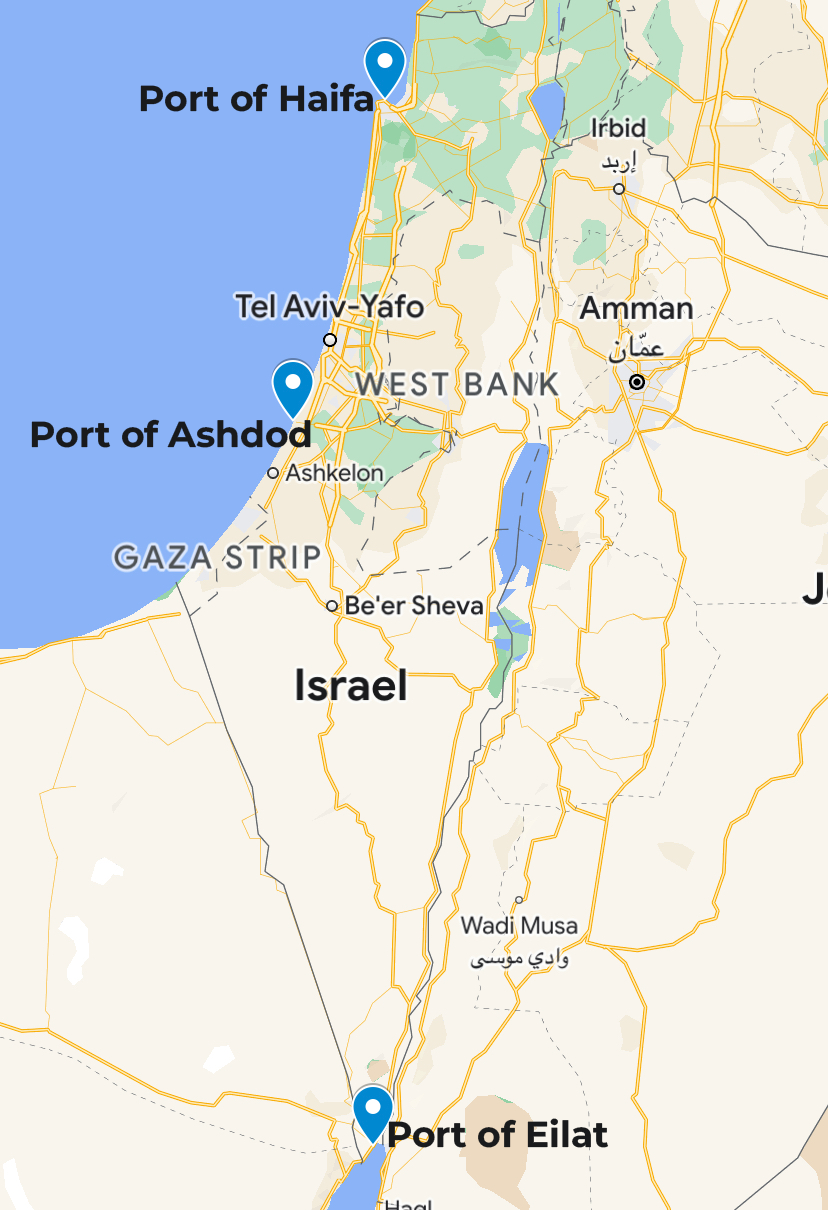 Haifa Port (ILHFA)
Ashdod Port (ILASH)
Tel Aviv-Yafo(ILTLV)
Transit Times for China to Israel Sea Freight
| | | | |
| --- | --- | --- | --- |
| Transportation Time | Ashdod | Haifa | Tel Aviv-Yafo |
| Shanghai | 21 days - 31 days | 21 days - 38 days | 24 days - 39 days |
| Shenzhen | 21 days - 28 days | 21 days - 31 days | 24 days - 41 days |
| Guangzhou | 21 days - 28 days | 21 days - 31 days | 24 days - 41 days |
These times are provided for reference purposes only, and the actual transportation time may vary depending on different circumstances,including the type of goods, the mode of transportation, and the services offered by the freight company, among others. To conclude, the FCL/LCL transportation time from China to Israel's Haifa and Ashdod ports generally takes a few weeks to about a month.
What is the best seaport for shipping from China to Israel?
Haifa Port (ILHFA):
Located in the northern part of Israel, Haifa Port is the largest and most active port in the country.

It is well-equipped and can handle various types of cargo, including containerized, bulk, and general cargo.

Haifa Port serves as a major gateway for imports and exports and has good connectivity to major cities in Israel.
Ashdod Port (ILASH):
Situated in the central part of Israel, Ashdod Port is the country's second-largest port.

It is a deep-water port and can handle large vessels and a wide range of cargo types.

Ashdod Port is strategically important for trade and is well-connected to the transportation network in Israel.
Tel Aviv-Yafo (ILTLV):
Tel Aviv-Yafo does not have a large commercial seaport like Haifa and Ashdod.

However, it has a marina for leisure and small-scale shipping activities.
Considering the information provided, it is recommended to choose between Haifa Port and Ashdod Port for the shipment of your goods. Both ports are well-established, equipped to handle various cargo types, and offer good transportation connections within Israel.
To make the best decision, you may want to consult with a freight forwarder or logistics expert who can provide personalized advice based on the specific details of your shipment, including the type of goods, volume, transportation requirements, and final destination within Israel. They can help you choose the most suitable port and guide you through the shipping process to ensure a smooth and efficient delivery of your goods to Israel.
Express shipping from China to Israel
Express services are a highly convenient and rapid transportation method, especially suitable for shipping small quantities of goods with urgent requirements. Express services are critical in transportation between China and Israel, offering door-to-door delivery to ensure safe and timely delivery. Express services typically partner with internationally recognized courier companies like DHL, UPS, FedEx, etc., known for their efficient logistics networks and excellent service quality.
Transit Time for China to Israel Express Services
DHL: around 3-5 working days

FedEx IP: around 4-6 working days

FedEx IE: around 7-10 working days
What is the best express service from China to Israel?
DHL, UPS, and FedEx are competitive in pricing, but the cheapest express service may vary depending on specific factors. Prices are determined based on factors such as the weight, size of the shipment, destination, etc.
Normally, if your goods are in urgent need, we suggest you to choose DHL service. If you want cheapest price, generally FedEx-IE has the cheapest shipping price but relatively slowest shipping time.
It is recommended to contact JIKE Logistics directly to obtain a Free Quote. You can provide relevant information in the form on our website to receive a corresponding quote.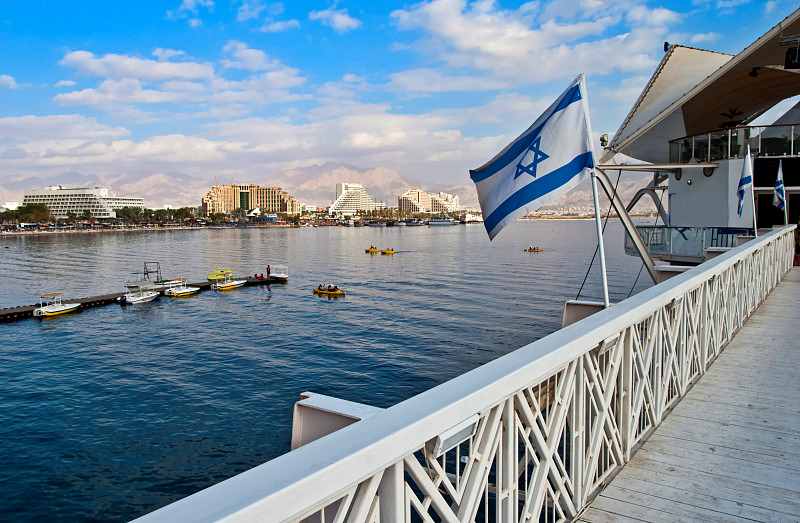 Prohibited and Restricted Items to Israel
Goods prohibited from being imported into Israel include:
Animals

Antiques (fragile)

Asbestos

Gold bars

Banknotes

Arms and weapons, including parts and ammunition

Fur

Dangerous or flammable items (as per IATA regulations)

Remains, including ashes

Jewelry, precious metals, gemstones, and minerals

Illegal drugs

Food, live animals, medicines, flammable substances, corrosives, optical disks, and items restricted by the International Air Transport Association (IATA) for international air transportation

Replicas and inactive explosive devices and munitions, including replicas and inactive grenades, inactive shells, and similar items

Prohibited items specified by any national or local government laws along the route of transportation

Infant formula powder for infants up to thirty-six months old, including milk powder or soy milk powder (unless an export permit is issued by the Director-General of the Industrial Trade Administration)

Alcohol or alcoholic beverages
Goods restricted ( requiring permits ) from being imported into Israel include:
Powered vehicles (e.g., electric hoverboards, electric scooters, electric bicycles), car parts - Require local Ministry of Transportation permits.

Electronic products with Wi-Fi capability (e.g., robotic vacuum cleaners, projectors, radios, cameras, camcorders) and electronic devices with signal transmission and reception (e.g., metal detectors) - Require local communication permits.

Beauty apparatus - Require local Ministry of Health permits.

Items and books related to local Israeli religions - Require separate confirmation.

Cosmetics - Require permits.

Drones - Require the necessary certificates: transportation permit, communication permit, and Civil Aviation Authority permit.
How much does it cost to ship from China to Israel?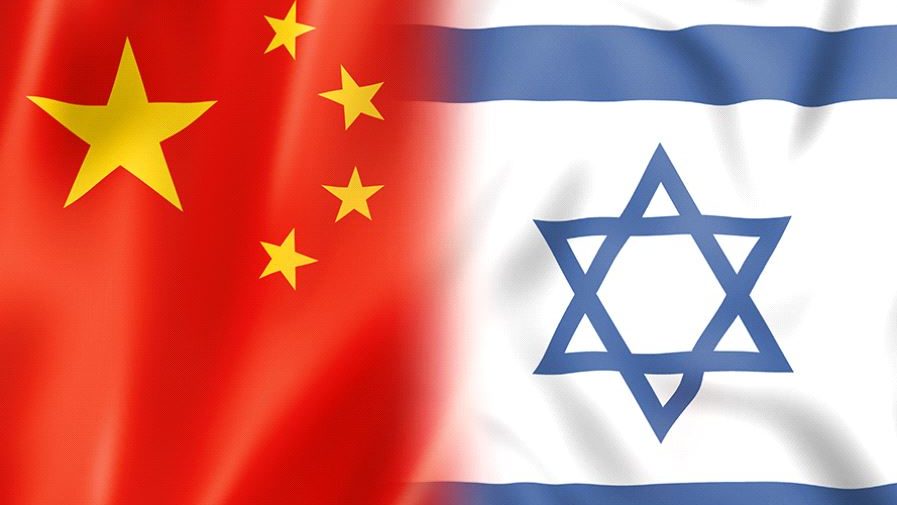 The cost of shipping items from China to Israel varies based on several factors, including the weight, size of the items, shipping method (sea freight, air freight, or express), the distance of the shipment, speed requirements, and the shipping company's policies and fee structures. Therefore, it is not possible to provide a specific cost figure. In addition, other factors need to be considered, such as transportation insurance, customs duties, and import taxes, which may also impact the final shipping cost.
Here are some estimated shipping costs FYI only.
BY SEA FCL: USD 1800-2500/20GP; USD 2200-3300/40GP/40HQ

BY SEA LCL:USD 30/CBM-USD 120/CBM

BY AIR: USD 2.5/KG-USD 16.5/KG



How much are import fees in lsrael?
Shipping goods from China to Israel is a common practice for both individuals and businesses looking to engage in international trade. However, before diving into the process, it's crucial to understand the various aspects of importing, including import duties, taxes, and other important considerations. Below information will walk you through the essential information, making your shipping experience smoother and more cost-effective.
Whether you are a small business owner or a large enterprise, importing goods to Israel requires compliance with import duties and other taxes. All import taxes are calculated based on the CIF (Cost, Insurance, and Freight) price of the goods. Along with import tariffs, imported goods are subject to value-added tax, consumption tax, and port fees.
【Import Customs Duty】
Israel's import duty structure is important to comprehend for efficient planning, which is based on goods category (HS code) and country of origin, and calculated based on the value of the goods (i.e., Cost, Insurance, and Freight - CIF value) . The country's most favored nation duty rate averages around 3.5%, while agricultural products face an average duty rate of 11.6%. Goods imported from countries with which Israel has free trade agreements usually enjoy duty exemptions for industrial products and preferential rates for agricultural items. Non-agricultural goods from most favored nation countries have an average duty of 2.2%.
【Value-Added Tax (VAT)】
VAT is a critical consideration when shipping goods to Israel. As of 2023, Israel's VAT rate stands at 17%. Additionally, certain products, such as imported automobiles, cigarettes, alcohol, and luxury items, are subject to consumption tax. Understanding these taxes in advance will help you estimate the overall cost of your shipment accurately.
【Thresholds】
When shipping goods to Israel, the CIF value plays a significant role in determining the applicable taxes and duties. Goods with a CIF value not exceeding 75 USD are exempt from import customs duty, VAT, and Excise tax. However, if the CIF value surpasses 325 USD, only import tariffs are waived. Irrespective of the CIF value, port fees are always applicable.
【Excise Tax】
Apart from import duties and taxes, it's essential to be aware of additional levies. Israel imposes Excise Tax ranging from 5% to 95% on certain consumer goods. Common items under the consumption tax umbrella include alcohol, alcoholic beverages, tobacco products (including tobacco itself), and automobiles (including automobile parts).
It's important to note that the specific calculation and scope of these taxes and fees may vary depending on the type of goods, country of origin, import quantities, and eligibility for any special preferential policies.

And also, we should consider the differences between commercial shipments and personal shipments. These differences mainly involve taxes, declaration procedures, and import restrictions (such as quantity limitations when importing goods in a personal capacity).

Therefore, when engaging in import operations, it is advisable to consult with professional customs agents like JIKE or tax experts to ensure a proper understanding and compliance with the applicable tax and fee regulations, avoiding unnecessary complications and costs.
SII Certification in Israel
When shipping products from China to Israel, it's essential to be aware of the SII certification (Standards Institution of Israel) requirements. Many products in Israel require SII certification to ensure they meet relevant international and national standards. This article highlights some of the product categories that need SII certification for smooth importation into Israel.
Electronic Products: Electronic devices, communication equipment, computers, and household appliances are some of the electronic products that require SII certification for importation.

Industrial Equipment: Industrial machinery, automation equipment, and industrial measurement devices are among the products that need SII certification to comply with Israel's standards.

Construction and Building Materials: Building materials, steel structures, cables, pipes, and related products must obtain SII certification before being shipped from China to Israel.

Medical Devices: Medical equipment, diagnostic devices, and medical consumables fall under the category of products that require SII certification for import into Israel.

Food and Beverages: Food items, beverages, and food additives need to meet SII certification standards before they can be imported into Israel.

Cosmetics and Personal Care Products: Cosmetics, shampoos, skincare products, and other personal care items must undergo SII certification for importation.

Toys and Children's Products: Children's toys, clothing, and baby products are subject to SII certification requirements for hassle-free importation into Israel.

Household Items: Household furniture, bedding, kitchen utensils, and similar products require SII certification before shipping to Israel.

Vehicles and Transportation Equipment: Automobiles, motorcycles, electric vehicles, and related transportation products must obtain SII certification for importation.

Environmental Products: Environmental equipment and renewable energy products are part of the product category that requires SII certification to meet Israel's environmental standards.

Textiles and Clothing: Textile products, apparel, and footwear also need SII certification to be eligible for importation into Israel.
SII certification is a crucial aspect of shipping products from China to Israel.It's essential to verify the specific SII certification requirements for your product category. If you need to know more, you can refer to the official website: www.sii.org.il or contact the experts at JIKE.
Shipping from China to Israel has never been more efficient and reliable with JIKE Logistics. Benefit from our expertise in customs clearance, SII certification, and import agency services to ensure seamless cross-border transactions. Whether you opt for our air freight or sea freight solutions, you can count on our top-notch services and competitive prices. Trust JIKE Logistics to handle your shipping needs and take your business to new heights.


What should I consider when shipping from China to Israel?
Finding a reliable logistics company that can provide transportation services tailored to your needs at the most affordable price is crucial.
Next, understand the customs regulations and prepare the necessary documents and licenses.
Then, familiarize yourself with shipping methods and costs, such as sea freight, air freight, or express. Choose the most suitable shipping method based on your requirements and budget.
Finally, purchase appropriate transportation insurance: Consider buying adequate transportation insurance to protect against loss, damage, or theft of goods during transit.
To avoid customs issues, it is essential to meet all requirements before shipping from China to Israel.


Who has the cheapest international shipping from China to Israel?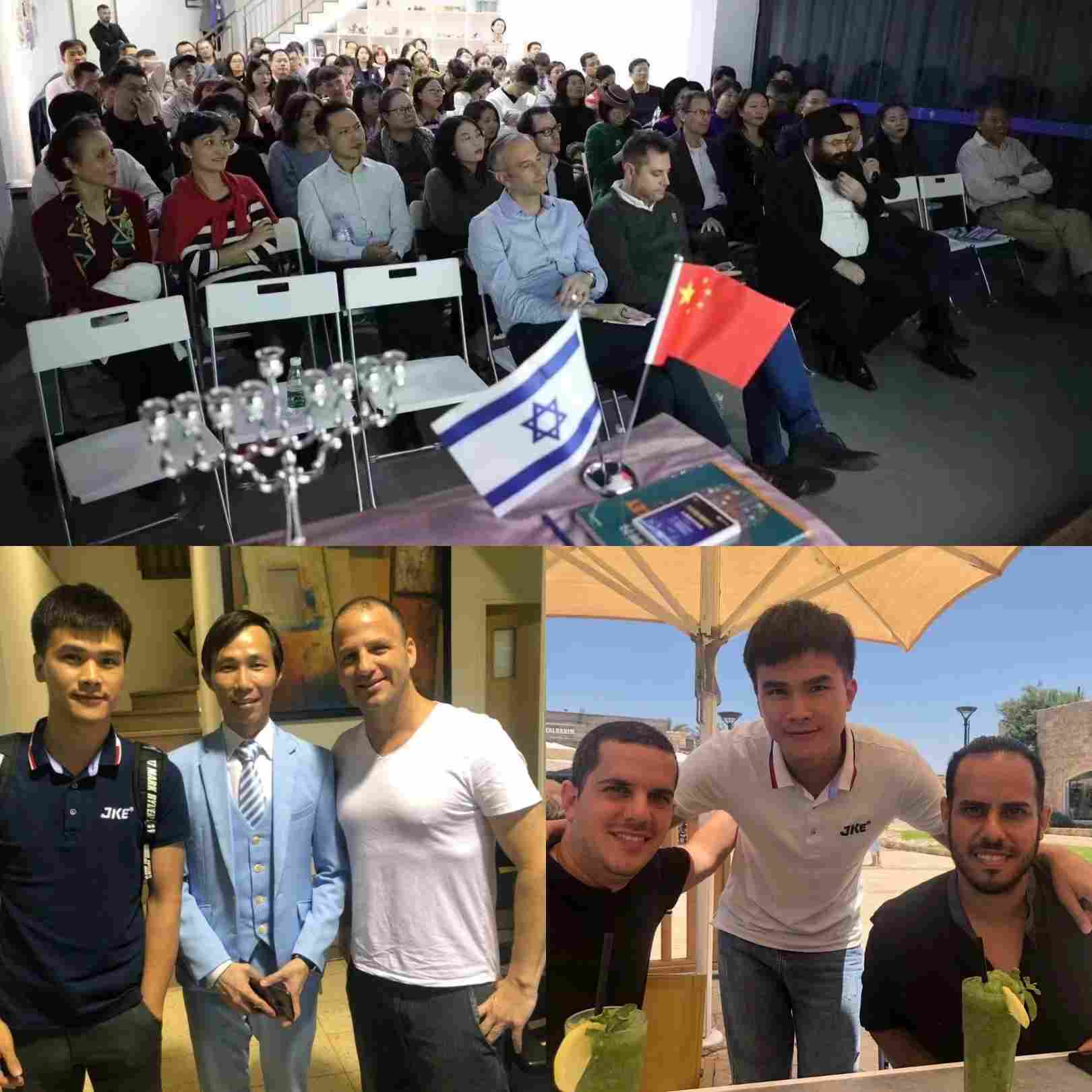 When it comes to shipping from China to Israel, JIKE Logistics is your trusted partner. With our dedicated in-house customs clearance team in Israel and extensive import operation experience, we ensure smooth customs clearance and minimize any potential clearance risks. Our comprehensive cross-border services include Israel SII certification agency and import agency, tailored to meet your commercial customs needs.
JIKE Israel Specialized Line, a cross-border e-commerce logistics brand under JIKE, leverages our international logistics expertise and a network of 200+ agents worldwide. We offer abundant shipping space, professional services, and cost-effective solutions for all your shipping requirements.
Jike's Air Freight | Door-to-door service from China to Israel:
Suitable for general cargo, sensitive goods, and pure battery shipments.

We provide three fixed flights per week, with a delivery time of 6 to 10 working days.

Benefit from full cargo flights with high capacity and direct airline partnerships, ensuring guaranteed space availability.

Enjoy door-to-door DDU service, covering deliveries throughout Israel.
Jike's Sir Freight | Door-to-door service from China to Israel:
Catering to general cargo, sensitive goods, and pure battery shipments.

Multiple partnerships with reputable shipping lines ensure consistent availability of shipping space, with a delivery time of 30-35 days.

We offer full-container-load, less-than-container-load, and personalized multimodal transportation services.

Experience the convenience of door-to-door DDU service, facilitating smooth deliveries across Israel.
Whenever you want to send goods from China to Israel, we will provide you with the best, affordable, most efficient, and reliable service.
Conclusion
Diverse transportation options offer flexibility when sending parcels from China to Israel. You can choose sea freight, air freight, or express services based on different needs and time requirements. This cooperation contributes to the prosperity of both countries economies and provides new opportunities to strengthen friendly relations and cooperation between China and Israel.
FAQs
Q: How can I reduce shipping costs?
A: There are several ways to lower transportation expenses. These include consolidating shipments, using more cost-effective transportation methods (e.g., sea freight for non-urgent shipments), and negotiating rates with transportation companies. Properly packaging your goods can also help reduce costs and ensure optimized expenses.
Q: What factors may cause shipping delays from China to Israel?
A: Various factors can lead to delays, including adverse weather conditions, customs issues, port or airport operational delays, and document-related problems.
Q: Do I need to go through customs procedures for shipping from China to Israel?
A: Yes, shipping from China to Israel requires going through customs procedures. You will also need to prepare the necessary documents and permits. These documents will be used for customs clearance of the goods.