Shipping from China to Mexico is a complex and crucial process. This guide will provide you with important information about different transportation modes, transit times, relevant regulations, and much more. Whether you are a business operator or an individual with shipping needs, this guide will help you better to understand the transportation of goods from China to Mexico.

Shipping from China to Mexico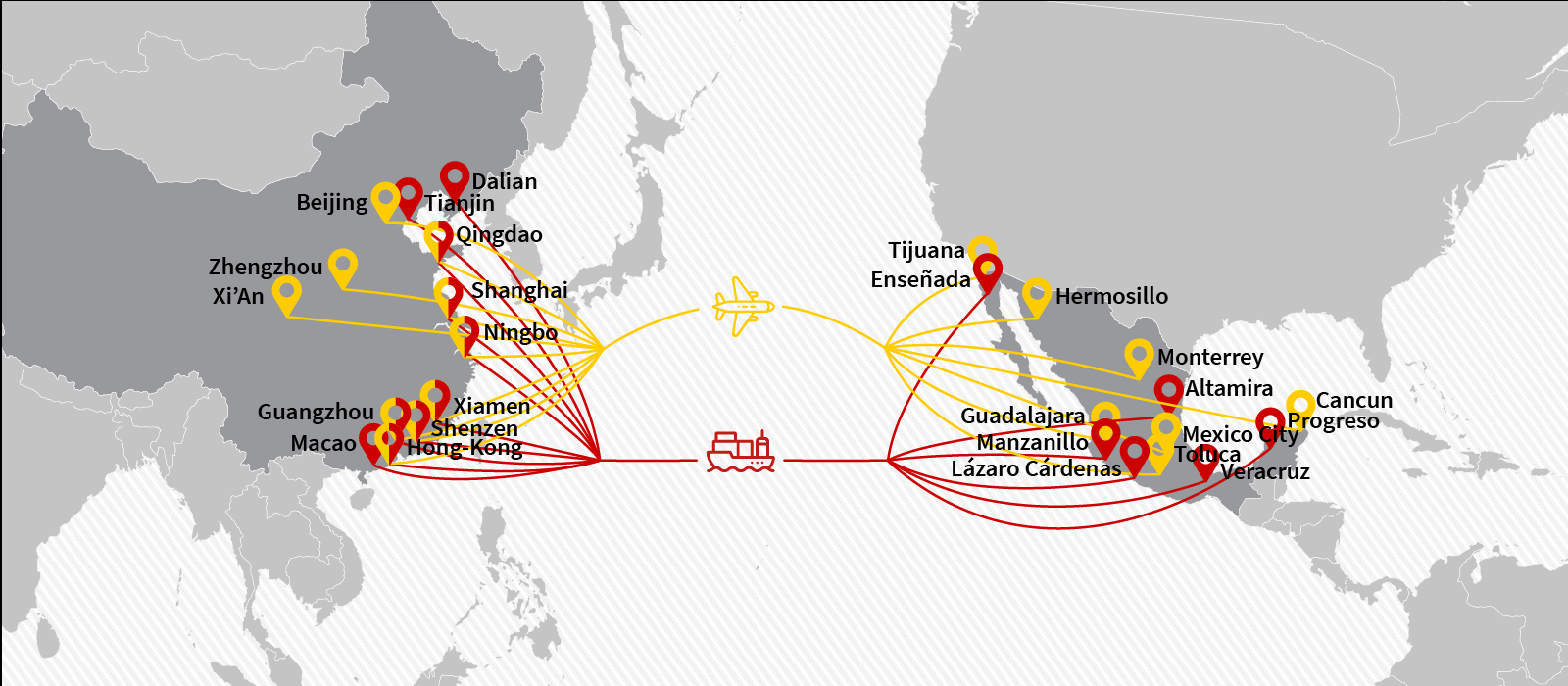 Container Shipping from China to Mexico:
Sea freight is one of the common modes of shipping from China to Mexico.
Route: From China to Mexico

Transit time: Approximately 20-35 days

Service types: Door-to-door, door-to-port, and port-to-port transportation services from China to Mexico.

Shipping types: LCL Shipping & FCL Shipping

Chinese ports: Major ports such as Shanghai, Shenzhen, Ningbo, Qingdao, Guangzhou, Tianjin, Dalian, Xiamen, Hong Kong, Macau, etc.

Applicable scenarios:
Your supplier is located near major Chinese ports.
Your cargo is larger than 2 CBM.
There is no rush for you to receive them.
Full Container Load (FCL) :
JIKEship provides FCL services to Mexico with 20-foot and 40-foot containers. If your shipment requires different types of container equipment, such as open-top containers, flat racks, and refrigerated containers, we can also provide you with the best alternative options.
Note: A standard 40-foot container can accommodate 22 standard pallets, while a 20-foot container can accommodate ten pallets.
Less than Container Load (LCL):
If your goods cannot fill an entire container, we always offer sea freight consolidation services from China to Mexico. With this service, applicable rates are based on the volume of the goods. If the weight of the cargo exceeds the maximum weight allowed per cubic meter, the applicable rate is based on the weight.
JIKEship advice: If you are shipping a large number of goods and can fill a container, choosing FCL loading makes sense as your items will be separated from those of other importers. On the other hand, LCL shipping provides a more economical way to transport small volumes of goods.
Air Freight Shipping from China to Mexico:
Air freight is the fastest transport from China to Mexico and the best choice for high-value items.
Route: From China to Mexico

Transit time: Approximately 5-10 days

Service types: Airport-to-airport, door-to-door, airport-to-door, and door-to-airport transportation services from China to Mexico.

Chinese airports: Major airports such as Shanghai, Chengdu, Xi'an, Guangzhou, Hong Kong, Kunming, Shenzhen, Hangzhou, etc.

Applicable scenarios:
Your cargo is less than two cubic meters and 200 kilograms.
You are in a hurry to send/receive the goods.
Advantages: Fast

Disadvantages: Expensive, restrictions on types of air-shippable items
How much does it cost to ship goods to Mexico?
Several factors influence the cost of shipping your goods from China to Mexico:
Distance from origin to destination

Type of goods

Mode of transportation: air freight or sea freight

Weight, volume, and size of the goods

Type of delivery service required (door-to-door, port-to-port, door-to-port, or port-to-door)
It is important to note that your shipment's weight, volume, and size play a crucial role in determining your chosen mode of transport, as it is closely related to the price.
If your goods are over 100kg, it is cheaper to choose sea freight. Air freight may be more suitable for you for lighter and more expensive shipments.
How to reduce the cost of transport from China to Mexico?
Recently, there have been significant changes in shipping costs. The shortage of goods coming in and out from multiple locations has increased costs.
The increase in transportation costs is reducing the profit margins for many business owners. Fortunately, there are still some ways to reduce the cost of shipping from China to Mexico:
You can negotiate freight rates with carriers. If you operate a small business, the best option for shipping is through a freight forwarding company.

You can use smaller cartons. Packing your goods into compact sizes can significantly reduce transportation costs based on volume weight.

Using poly bags can greatly reduce shipping costs as they occupy less transportation space and thus incur lower costs.

You can work with the same freight forwarding company to reduce shipping costs. The more you work with them, the greater your chances of getting a discount.
Customs procedures for shipping from China to Mexico
Customs procedures are an essential part of your shipment. When shipping from China to Mexico, your products will only reach you if customs clearance procedures are completed.
In general, customs officials need to determine the following basic details:
Detailed information about the exported goods.

Who is responsible for the goods if payment is not made?

Whether the goods are properly packaged and whether it contains any dangerous goods.

Authentic documents, including permits, waybills, invoices, etc.
What documents are required to import from China to Mexico
Your carrier will require you to complete important documents to prepare your goods for customs inspection. These include:
Commercial invoice

Packing list

Certificate of origin

Letter of credit or other payment terms (depending on the contractual agreement between relevant parties)

Sea waybill or air waybill
Please note that you may need to provide other important documents, such as licenses, permits, and certificates. If you have any questions, you can consult our JIKEship shipping experts!
What import duties do I have to pay for Mexican customs?
Mexican customs levy a 16% VAT on most imported goods. Additionally, you may also need to pay customs duties, consumption taxes, and other fees.
Note: It is important to have a comprehensive understanding of the costs involved in shipping from China to Mexico and let your freight forwarder know all the details of your goods to receive an accurate estimate.
If you want to avoid handling the tax payment yourself, JIKEship also offers a duty-paid delivery option, door-to-door, which covers everything. You only need to pay our freight charges and wait for the package to arrive while we will take care of it for you.
Why choose JIKEship as your freight forwarder in China?
For the convenience of your cargo transportation, we offer the following services:
Pickup from supplier factories.

Pickup from different suppliers and consolidation for cost-saving.

Assistance with repackaging of cartons.

Free product photography for suppliers.

Free pre-shipment inspection of packaging and appearance.

Customs clearance for each batch of your goods.

Purchase insurance for your goods.

Super reasonable prices.
...
You can contact us 24/7, and our goal is to customize transport solutions for different types of customers. Whatever cargo you want to transport, we can meet the challenge. Based on our shipping experience and your transportation requirements, we provide the most suitable shipping quotes for each batch of your goods. No matter how unconventional the goods are, we will do our best to meet your needs.