In 2022, the total bilateral trade between Malaysia and China surpassed the US$200 billion mark, making it Malaysia's largest trading partner for 14 consecutive years. China is also Malaysia's largest import market, with imports accounting for approximately 21.3% of Malaysia's total imports. China-Malaysia economic and trade cooperation has a stable and solid foundation, and the potential for future development is still huge. This article will provide you with the main details related to exporting from China to Malaysia, including transit time, cost, process, and taxes, etc. to provide you with the best and most affordable shipping solutions.
How to ship to Malaysia?
Sea, air and courier services, which will be described later, are the main means by which goods enter Malaysia.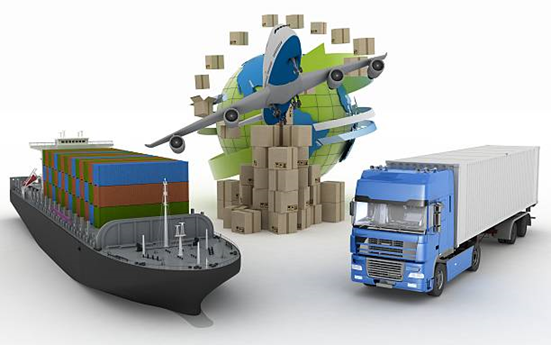 Export process from China to Malaysia
Step 1: Familiarize yourself with import and export regulations (e.g., Malaysian tariffs, customs system, and tax obligations).
Step 2: Contact suppliers and import goods while guiding shipping documents and export declaration filing services.
Step 3: Prepare necessary documents, such as customs declaration, air waybill of lading or bill of lading, commercial invoice, etc.
Step 4: Entrust freight forwarders who plan your transport solutions, provide full import and export support, and offer detailed guidance and services.
Step 5: Choose shipping methods such as sea, air, or express.
Step 6: Import/export clearance, customs confirmation, and tax payment, then wait for the goods to be released.
Step 7: The goods are delivered according to port-to-port, door-to-door, or returned to the destination.
Sea freight shipping to Malaysia
The most important way to export from China to Malaysia is by sea, the cheapest way to ship to Malaysia, and there are no restrictions on the type of products and size of the goods.
If your cargo is located near a major port in China, the load volume is more than two cubic meters, and a longer transit time is acceptable, sea freight will be your best choice.
China's exports to Malaysia are mainly through the following ports: Guangzhou Port, Shenzhen Port, Hong Kong, Macau Port, Dalian Port, Tianjin Port, Qingdao Port, Shanghai Port, and Xiamen Port.
Malaysia's main import ports are Bakapin Port, Georgetown Port, Kuala Lumpur Port, Malacca Port, Penang Port, Klang Port, Tanjung Balas Port, and Kuantan Port.
Sea freight price to Malaysia
Sea freight is the cheapest shipping to Malaysia from China. However, the ocean freight cost comprises various factors, such as volume and weight of cargo, mode of transportation, transportation route, Port, oil price, type of cargo, etc. There are several loading ports and ports of entry from China to Malaysia to choose from, and there are various choices of transportation routes, while the rates vary from one shipping company to another. Therefore, we provide a reference price: port-to-port ocean freight costs about 30 USD/m3. The exact price is subject to the pricing of the shipping company.
We recommend contacting us for the most accurate information on shipping costs from China to Malaysia. We will calculate and quote your freight costs individually for your shipping needs.
Sea freight time to Malaysia
Typically, shipping container to Malaysia takes 8-14 days, and the exact time may be affected by the mode of transportation, port of loading, port of entry, shipping route, customs clearance, and weather conditions. Container shipping from China, Full Container Load (FCL) shipping is usually faster than less than one container load (LCL).
The following table is a reference table of the sea time from China to Malaysia at each primary Port (unit: days):
| | | | | | |
| --- | --- | --- | --- | --- | --- |
| Qingdao | Tianjin | Guangzhou | Shenzhen | Shanghai | Port |
| 10 | 14 | 8 | 9 | 8 | Vientiane |
| 12 | 15 | 9 | 10 | 11 | Penang Island |
| 12 | 16 | 10 | 10 | 11 | Johor |
| 22 | 25 | 20 | 20 | 21 | Door to DoorJohor |
The above times are for reference only, and specific transit times may vary. Door-to-door shipping time may be longer.

Air freight shipping to Malaysia
There are many cargo routes between China and Malaysia, and many Chinese airports offer direct flights to Malaysia. If your cargo is less than two cubic meters in volume and weighs no more than 200 kg, and you want your cargo to reach Malaysia quickly, air freight will be your best choice.
Here are some of the significant Chinese airports: Shenzhen Baoan International Airport, Guangzhou Baiyun International Airport, Hong Kong International Airport, Beijing Capital International Airport, Beijing Daxing International Airport, Shanghai Hongqiao Airport, Shanghai Pudong International Airport, Nanjing Lukou International Airport, Kunming Changshui International Airport, Zhengzhou Xinzheng International Airport, and Chengdu Shuangliu International Airport.
The primary cargo airports in Malaysia are Kuala Lumpur International Airport, Kota Kinabalu International Airport, Kuching International Airport, Langkawi International Airport, Penang International Airport, and Senai International Airport.
Air cargo from China to Malaysia is usually available in the following ways:
n Documents and correspondence: can be transported by air via courier or specialized document shipping services.
n Small cargo: For example, for small cargo such as overseas online shopping goods, electronic products, clothing, etc., you can choose express air service for air transportation.
n Fresh food: Valuable and perishable food, such as sea cucumber, abalone, shrimp, and crab, can be transported by air through cold chain logistics.
n Medical supplies: such as pharmaceuticals and medical devices, can be transported by air via air cargo services.
n Sensitive goods: such as fragile or perishable goods
n Dangerous goods: For example, chemicals and flammable materials that require special transportation conditions should be transported by special dangerous goods air transport services.
Usually, air cargo must be declared before departure and packed and marked according to the airline's packaging and marking requirements. The airfreight cost is relatively high, so the choice needs to be made according to the characteristics and urgency of the cargo.
Air freight costs to Malaysia
The price of airfreight from China to Malaysia is about 2-4 USD per kg, and the price depends on several factors, such as the type of cargo, volume, logistics service requirements (e.g., special packaging, insurance, door-to-door service), and fuel surcharges. The exact price is subject to the airline's quotation.
Air freight is relatively expensive compared to sea or land transportation. Therefore, it is necessary to make a balanced consideration between time and cost and choose the appropriate transportation method according to the value and urgency of the cargo. If the weight or volume of the shipment is significant, you can select the cargo consolidation service of the air freight company to save transportation costs.
JIKE Logistics provides fast, efficient, and reliable global international airfreight service from China to Malaysia. We have long-term cooperation with many domestic and Malaysian airlines and have a wide range of cooperation in the domestic and international airfreight industry. We offer competitive air freight quotes; you can ask us for the latest selections.
Air freight time to Malaysia
Usually, the transit time from China to Malaysia by air from Port to Port is about 1-5 days, and Door to Door is about 4-11 days. However, the exact transit time may vary due to shipping methods, distances, routes, customs clearance, and weather conditions.
Express shipping to Malaysia
For personal or small shipments, courier services are more convenient, fast, and reliable. Courier companies offer door-to-door service, allowing you to receive your goods quickly from your home or office.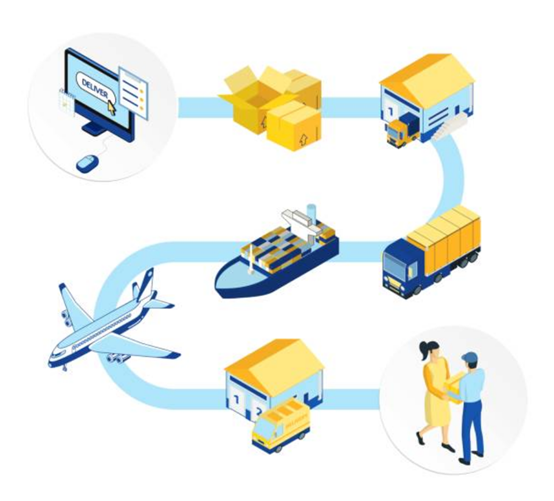 Well-known courier companies shipping from China to Malaysia include UPS, FedEx, etc. They are known for their outstanding service reliability. These courier companies offer you a variety of shipping methods, including air and sea freight, to facilitate your shipment from your home or office and delivery to your designated address. Whether you are an individual or a business, these couriers can efficiently handle your merchandise shipping needs. When choosing a suitable courier, you must consider several factors, such as shipping costs, timeliness, customer service, and the carrier's reputation.
Time required to reach Malaysia
Express delivery from China to Malaysia usually takes 2-6 days in transit time, while for faster delivery, you can consider choosing Speedpost service, which can generally be completed within 1-3 days.
Compared to other modes of transportation, express transportation is more straightforward, without complicated procedures and documents, ensuring shorter transportation time.
Express costs to Malaysia
The charges for international express delivery from China to Malaysia are generally based on the type of service, the weight of the item, the volume, and the speed of delivery. Familiar international courier companies typically offer various service levels and speed options, so other couriers have different rates. In addition, charges may include additional fees such as duties, insurance, fuel surcharges, etc.
Tariff policy and customs system
China is one of the five countries that have partnered with Malaysia through regional free trade agreements (FTAs), and there are FTAs between China and Malaysia, such as Malaysia and ASEAN (ASEAN) member countries, China, Japan, Korea, and Australia. One of the most significant benefits of the trade partnership between Malaysia and China is the reduction of tariffs on goods imported and exported from both countries. You can assess whether you can benefit from tariff reductions by visiting Malaysia's proprietary Free Trade Agreement Calculator.
Malaysia has adopted a comprehensive tariff code system that determines the applicable tariff rates based on factors such as the goods' category, origin, and value. The Malaysian tariff code uses the HS code (Customs Commodity Code).
The duty rate in Malaysia varies from commodity to commodity and, in most cases, is based on the value of the goods shipped to Malaysia. If the total value of the goods is less than MYR 500, no import duty is payable. If the total value of imported goods exceeds MYR 500, 5-10% of the value of the goods will be subject to Sales and Service Tax (SST). The average tax rate ranges from 6.1% to 7.7%. The income tax payable depends on the product category in the Malaysian Harmonized System (HS) code and can be up to 25%. The percentage of taxes and import duties to be paid can be checked using the Royal Malaysian Customs HS Code tool.
Malaysia offers tax exemptions or reductions for certain goods. These goods may include medical, agricultural, educational, etc. Applications for tax relief may be subject to specific conditions and procedures. The tax rates are available on the official website of Malaysian Customs or in the relevant regulations.
Customs-related
Malaysian Customs inspects and approves the import and export of goods to legally enter or leave the country, a process known as cargo clearance.
Customs clearance of goods is a complex process that requires exporters to prepare adequate information and documentation and to work with Malaysian Customs to ensure smooth passage through each process step. Before customs clearance, check if your product is prohibited from importation into Malaysia or requires an import license. This can be obtained by checking the relevant Malaysian government website or consulting the appropriate regulatory authority. It is also advisable to check if your shipping company has received an export authorization to ensure your products are shipped to Malaysia intact and promptly. It is also necessary to determine which commodity code applies to your products and account for the import duties applicable to that commodity code to budget your operating costs and avoid unnecessary penalties and taxes.
The procedure for customs clearance entails the ensuing phases:
Customs declaration: Import and export enterprises must fill in the customs declaration form for import and export goods and provide relevant documents.

Customs inspection: Customs inspection of the goods according to the customs declaration and related documents to prevent the goods from violating specific regulations, standards, or laws.

Customs confirmation: After the customs inspection is completed, if there is no problem with the goods, the customs will verify the contents of the customs declaration and corresponding documents and confirm the quality, quantity, and value of the goods and other information.

Tax payment and waiting for release: After the Customs confirms the information of the goods, the importer needs to pay the relevant taxes and fees by the Customs regulations and can wait for the release only after the payment.

Release and pickup: After the customs release of the goods, the importer or logistics company can pick up the goods and move them out of the customs area according to the approved documents and instructions
Customs declaration documents
When importing or exporting goods, the following documents must be provided to Malaysian Customs:
Import license: Goods need to obtain an import license.

Customs declaration: detailed information on the name, quantity, weight, price, value, origin, and use of all goods.

Invoice: Includes information such as the value of the goods and the destination to which the goods were shipped.

Tariff Payment Slip: All customs duties levied on imported goods require prepayment before customs clearance, and the taxes to be paid include import duties and sales taxes.

Packing list: lists the number and type of all parcels and containers and the loading of the goods.

Certificate of origin: to prove the origin of the goods, they usually need to be provided by the manufacturer or supplier.

Transportation documents: including carrier agreement for the goods, packaging standards, unpacking sheets, bills of lading and transportation insurance, etc.
Other documentary requirements for customs: Depending on the needs of a particular shipment, additional documents may be required, such as operating licenses, manufacturing licenses, commercial licenses, letters of credit, and other tax certificates, etc.
Only complete or correctly submitted customs declaration documents may result in the goods being detained or returned during transportation. Therefore, it is essential for Chinese export businesses to strictly manage the preparation of customs declaration documents to ensure smooth customs clearance. If you need help determining which documents are required, please get in touch with us. We are experienced in handling customs procedures and can provide the timely and fast release of your shipped goods.
Packaging requirements
Goods exported from China to Malaysia should conform to international cargo packaging standards to ensure that the goods are not damaged during transportation; the following are some of the packaging requirements:
Packaging materials: use packaging materials that meet international trade standards, and packaging materials should be clean, odorless, non-toxic, and pest-free to ensure that the goods are not contaminated or corroded.

Packaging quality: The packaging must be strong, safe, resistant to external forces and vibration, and withstand long-distance transportation and multiple handling, with toughness to meet local environmental regulations.

Package identification: the outside of the package prominently marked with the name of the goods, quantity, gross weight, net weight, date of production, and other information, and the shell on the consignee, consignor, destination, and other identification, so that customs and shippers can be correctly identified.

Internal padding: Suitable padding materials should protect the goods from vibration, extrusion, and collision.

Damp-proof and dust-proof treatment: The goods can be treated with damp-proof, dust-proof, and shock-proof according to the requirements of the nature of the goods.

Special packaging requirements: For some sensitive items or fragile items, special packaging and marking treatment is required to ensure safety during transportation.

A stability check of the cargo should be performed before shipment to ensure the load will not slide or be damaged in transit.
Forbidden Items
Every country has a list of prohibited items from being imported into other countries, and Malaysia is no exception. These lists are usually established and issued by government agencies. If an individual or business violates them, the import of prohibited items will be confiscated by customs officials upon arrival at the Port of destination and may face fines or penalties.
The following chart lists some of the critical items that have been banned from importation: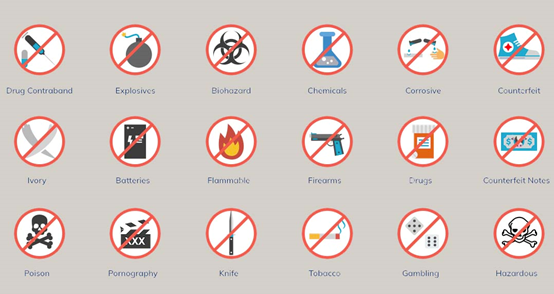 Please note that the above chart is not a complete list of prohibited and restricted items for importation and may be updated as time and policy changes. Suppose you still determine whether the exported goods fall under banned or restricted items. In that case, you can check the websites of the General Administration of Customs of China and Malaysia Customs or consult us for the exact answer.
Transit time from China to Malaysia
The transit time from China to Malaysia will vary depending on the mode of transportation and the specific route. The following is a list of standard methods of transportation and approximate time limits:
| | | |
| --- | --- | --- |
| Destination | Shipping Method | Shipping time (Day) |
| Malaysia | Sea Freight | 8-14 |
| Malaysia | Air transportation | 1-4 |
| Malaysia | Express shipping | 2-6 |
The best way to deliver goods from China to Malaysia
Choosing the best way to ship goods from China to Malaysia depends on several factors, such as nature, size, quantity, weight, urgency, and budget. Enumerated hereunder are some available modes of transportation:
Sea freight: For large quantities of goods that are not urgently needed. Sea freight takes longer and requires more paperwork but usually has a lower cost and higher carrying capacity.
Air freight: Air freight is the solution to provide fast and reliable transportation services when the goods are urgent and in small quantities. However, the cost of air freight is higher than other transportation modes.
International Express Service: For small, lightweight cargo, choosing international express service may be the most convenient and economical way of transportation. Several global express companies, such as DHL, FedEx, and UPS, offer different types of services, which can be chosen according to the goods' urgency, speed, and cost.
Choosing the best way of cargo transportation requires consideration of several factors, such as the nature of the cargo, requirements, transit time, and cost. Before choosing a transportation method, it is recommended to carefully evaluate and compare various options or consult a professional freight specialist for the best transportation solution from China to Malaysia.
Consult a freight specialist online
Shipping risk control
Regarding cargo transportation, there are always certain risks, such as ship accidents, theft or typhoons, and other unpredictable events that may lead to cargo loss. Such a situation could be fatal for most businesses. Having the right insurance can provide extra security for your shipment. The cost of freight insurance is calculated based on the value of the cargo, the miles traveled, and other factors. Generally, you only need to pay 1-3% of the value of the shipment + the value of the freight.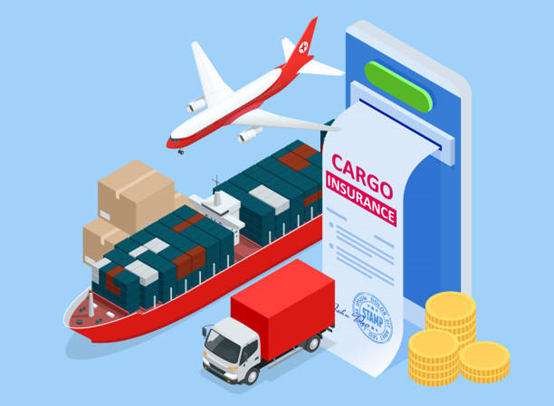 Logistics partner selection
By choosing JIKE Logistics as your logistics partner, you will be protected by the following:
Years of experience: JIKE Logistics has over ten years of experience in transportation, logistics, freight forwarding, and customs clearance operations and is well-versed in various customs laws and regulations in China and destination countries (e.g., Malaysia).

Wide range of services: As a global freight forwarding company, JIKE Logistics can provide freight forwarding services covering many countries and regions, with particular experience and expertise in shipping to Malaysia.

Professional team support: JIKE Logistics has an experienced and professional service team that can develop the most suitable logistics and transportation solutions according to customer's needs and provide customers with the whole process of tracking and Malaysia shipping services.

Reasonable and transparent fees: JIKE Logistics provides customers with transparent quotations and fee settlements so that customers clearly understand the cost of each service, thus reducing unnecessary fee costs.

Efficient and safe: JIKE Logistics' primary goal is the safe and fast arrival of their customers' cargo to its destination. They use internationally standardized transportation processes and are committed to getting cargo to its destination safely, quickly, and reliably.

After choosing JIKE Logistics as your freight forwarder, you will enjoy a complete freight service and will be able to get an efficient, safe, professional, and transparent service experience. So, if you are looking for a reliable freight forwarder, JIKE Logistics is one of the best choices.
Conclusion
The mode of transportation of cargoes and customs clearance procedures are two fundamental aspects of vehicles from China to Malaysia. When choosing between sea or air freight, various factors, such as type of cargo, volume, budget, and time requirements, must be considered. Ocean freight may be suitable for large volumes of goods and long-volume orders, while air freight and courier may be more suitable for smaller books or short-term urgent orders. Also, understanding Malaysia's import requirements and working with a transportation company is vital to ensure smooth customs clearance of your goods.
JIKE Logistics specializes in freight forwarding services from China to Malaysia. With our professional team and perfect management system, we can ensure that the goods are kept efficient, safe, and accurate during the transportation process. We are familiar with various customs and tax regulations in international trade and can get your cargo through customs smoothly and avoid delays or losses. Our quotation system is transparent, and we will provide you with the best price through communication. If you need further information, please get in touch with us today, and we will provide you with a customized shipping solution and price quote.
FAQ
What are the main differences between express and air freight?
Air freight is relatively more expensive; air freight requires more workflow and documentation; express delivery is direct door-to-door, while air freight requires consideration of delivery once the goods arrive at the Port.
What is the duration for sea freight shipping from China to Malaysia?
Usually, it takes about 8-14 days. The specific time limit depends on the ship date and route.
How much tax do I pay to import goods from China to Malaysia?
The tariff rate ranges from 0% to 50%, imported goods with FOB prices below MYR 500 are exempted from tariff, and the average pace ranges from 6.1% to 7.7%.
Will Customs open each package for inspection?
Customs will not open your package for no reason. Sometimes, Customs may sample a portion of a package for inspection. Businesses may also open a box for a more detailed review when the package has been damaged or is involved in a suspicious activity trail.